I don't understand why people are
frightened of new ideas. I'm frightened
of the old ones."
—John Cage
John Cage met Merce Cunningham and fell in love. Cage saw a vision of himself and Cunningham presenting their music and choreography in partnership, the two men both separate and equal. But would Cunningham agree? The confusion sent Cage into a devastating downward spiral of self-judgment and fear.
Zen saved John Cage from himself. D. T. Suzuki, the great Japanese scholar who introduced Buddhism to the West, moved to New York in 1950. Cage studied with him. Zen showed Cage his true nature: peaceful, loving, joyful. Cage was transformed.
And when Cage was transformed, so was the world he moved within. That world was about to shake off its old habits. Artists, performers, musicians, composers would all enter a new world that Cage's "green light" opened for them.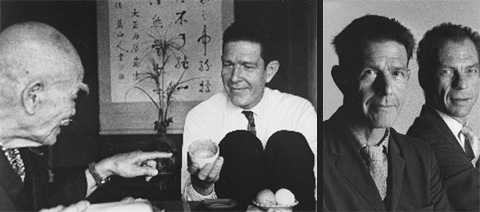 Before studying Zen, men are men and mountains are mountains. While studying Zen, things become confused. After studying Zen, men are men and mountains are mountains. After telling this, Dr. Suzuki was asked, 'What is the difference between before and after?' He said, 'No difference, only the feet are a little bit off the ground.'
—John Cage
In this book: creators in the arts who fell under the spell of Cage's "green light."
Art: Robert Rauschenberg, Jasper Johns, Yoko Ono, Allan Kaprow, George Segal, George Brecht, Robert Whitman, Lucas Samaras, Claes Oldenburg, Dick Higgins, Roy Lichtenstein, Alison Knowles, Robert Morris, Frank Stella, Ellsworth Kelly, Andy Warhol, George Maciunas, Nam June Paik, Robert Kushner, Pat Steir, Bruce Nauman.
Music: Morton Feldman, David Tudor, Earle Brown, Henry Cowell, Christian Wolff, Pierre Boulez, Richard Maxfield, La Monte Young, Toshi Ichiyanagi, Karlheinz Stockhausen, Luciano Berio, Steve Reich, Brian Eno.
Performance: Merce Cunningham, Robert Rauschenberg, and the artists and musicians who created early Happenings, Fluxus, Pop Art, and Minimalist performance art, plus Intermedia events such as Experiments in Art and Technology; also dancers and performance artists Anna Halprin, Yvonne Rainer, Trisha Brown, Steve Paxton, Lucinda Childs, Simone Forti.
Photos courtesy of the John Cage Trust.